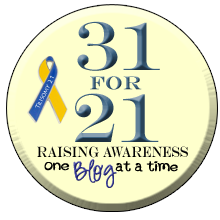 I wasn't going to do it.
I wasn't even going to
entertain
the thought of doing it.
I didn't do it last year, although I did feel the pull of it, the desire to do it, the need to take advantage of it...
But, in the pre-dawn hours of semi-sleep this morning, when my body had decided that 7 1/2 hours of fairly restful slumber was
quiteenoughthankyou
, I started thinking about it.
And I had an idea.
31 for 21 (thanks
Michelle
!) is the way Down syndrome bloggers have to commemorate the month of October, also known, in our circles, as Down Syndrome Awareness Month. By blogging all 31 days to help bring awareness of, advocacy for and information about the 21st chromosome that graces the complete corporeal existence of our loved ones with Down syndrome, we can put so much out there for the enjoyment of our peers, the assistance to new parents just starting out on this amazing journey, and new and enlightened understanding to those not connected in any immediate way to the Ds family.
My idea stems from the fact that I have very little time to blog these days, and a whole
7 years
of posts stored here. 7 years of writing that may have not seen the light of day in, well, perhaps
7 years
.
896 published posts (okay, 897 by the time this one hits the blog) to choose from, to enjoy all over again, to
re-share
with all of you this month by re-posting some of my favorites that pertain to the awareness of the beautiful and often misunderstood 3rd copy of the 21st chromosome found in the genes of more than 400,000 people in the US alone.
Today I'm just posting to let you know I'm gonna do this, gonna take the plunge, gonna bring back some moments from the dark, dusty, nearly-forgotten corners of this blog, and to invite you all to enjoy the ride with me - I'm excited about this! There will be some new material written, too, so keep an eye out for that. And for you bloggers who may be reading this, I pledge to read as many of your posts as possible, and will drop you a comment or two to let you know I've been there.
So, Happy Down Syndrome Awareness Month! Let's roll!!