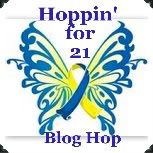 It's Blog Hop Day!! The 21st day of Down Syndrome Awareness Month. If you have joined the Hop, please visit Erin's
post
for the rules and the prizes! Please visit the blogs of the others involved in the hop by clicking the links at the end of this post!
I'm continuing the Q&A session today with another question, but will continue on Monday, as there's still more. :-)
Q.
Becca I thought about this all day, and I'd like to ask you to (re?) post a little about Sammi's early years - some history and baby photos and things so we can all see if she's always been as beautiful as she is today (I feel I may know the answer already :))
A. Oh, gosh, this kid has definitely
always
been beautiful, if I must say so myself... Hope that doesn't sound obnoxious, but wow, she's always just taken my breath away! History-wise, Samantha was always a very, very easy baby/child. Even with the heart condition that required open heart surgery at 4 months old, she was and still is very healthy, which actually surprises me, considering her limited palate that does
not
include vegetables. We have always had her on a multi-vitamin, which eases our minds a lot, knowing that if she's not going to eat something healthy, at least she'll get some vitamins and minerals from somewhere!
Sammi didn't really
chew
anything until she was nearly 2, so we kept her on 2 bottles of formula a day until then, to ensure that she got what she needed for nutrition, supplementing Stage-whatever foods. Finally, she got with the program, and we were able to introduct more. I say this, just so those of you who debate the formula/bottle thing will know that kids won't be ruined for life if they're on it for that long - that's why formulas come in that up-to-24-months variety. :-)
We got her on a sleep schedule almost immediately, something I'm really, really passionate about. I can never understand people who don't work hard on that - it will be the best thing you ever did,
trust me
.
Samantha became a world traveller at 9 months old, when we went to visit her Grandparents and aunts and uncles in England for a week. She did
great
on the plane and on long car rides. She went to England again just before she turned 4, and again, she did really well, even though she was coming off a bout of strep and an ear infection.
She started school at age 2 years, 3 months, and did great. Now, 3 years later, she is in full-inclusion Kindergarten, and we couldn't be happier with her progress!
Ummmm...let's see...not really sure what else to include history-wise, but below are some early pics (pre-DSLR, pre-Photoshop -
forgive me!
). Enjoy!

At 3 months old.

In England, at 9 months old.

At 11 months old. It bears noting that this photo appeared in the April 2008 issue of Parents Magazine. :-)

At 1 year old.

Again, at 1 year old. Self-feeding for the very first time!
Our very first Buddy Walk, at @1 1/2 years old.
At 21 months old, having just begun to walk full-time.

@2 years old.
And for those of you who wanted to know what kinds of hair bands and hair clips I use in Samantha's hair that don't pull her hair out (too much)? Uh, can't help you there. I totally have to go by
feel
when I'm in the store looking for them. They're by Goody, but Goody makes, like, 100,000 different hair bands. And some of them look exactly like the ones I like, but aren't. quite. right. The ones I get are almost like those loops that you put on the children's looms to make potholders - they're regular hair band size, but they're softer and stretchier than others. I
think
they're item #32819 (Gentle Ponytailers) on their
website
, and the barettes are item #32144 (Bright Snap Clips, although they come out in different colors every season so the style number may change). I like clips with the rubberized coating, but the coating always winds up peeling off eventually, plus they tend to slide in her hair a lot more. Their website
sucks
, so good luck navigating it.