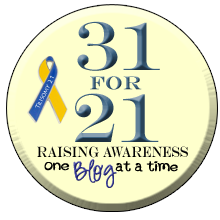 Grab This Button
For those of you that didn't already know, October is Down Syndrome Awareness Month. Not like every day isn't a teachable moment, but having this designated month gives us the opportunity to join forces and raise awareness in a big, concentrated effort. For bloggers, this effort can be made by stepping up to the challenge of crafting a post on each of the 31 days of October. 31 days for the extra 21st chromosome that makes our children and loved ones with Trisomy 21 (that's Down syndrome, folks) unique. 31 for 21. Get it?
I have seen this blog challenge and others like it come and go over the last few years. They
came to my attention
, and they
went out of my reach
. I knew I wouldn't be able to keep them up. But this year I pledge to really, really, really
try
to keep it going, to provide my daily dose of awareness. Not sure what form those posts will take yet - they may be a photo, an amusing anecdote about Samantha's escapades, a factoid or two about Down syndrome. Perhaps they'll be a motivational news article, or one that makes me sad. I might even just link to someone else's post if it's moved me to share it
(Possible Translation:
if I'm not feeling creative or bloggy enough to write my own...
).
I'm excited to give it a go. I hope you'll help support me in this - share, share, share!
Spread the word
. Let's let the world know about the special
1 in 733
people out there that are enhanced with that little extra
something
, who deserve to have a life like ours.